Ellcie Healthy is a French start-up that has developed Smartglasses to prevent the risk of falling asleep at the wheel. The company announces the entry of several local investors to support its deployment.
Together contributing close to €2.7 million are ACG Management based in Marseilles, Région Sud Investissement managed by Turenne Capital, SYGMA, BPI France, and several local Business Angels. The law firm of EY Ventury Avocats is also maintaining its support for the company. "I am pleased to have been able to finalise this funding locally. Our Region contributes a lot to start-ups and we have a favourable environment in terms of research laboratories and teaching hospitals," explains Philippe Peyrard, Chairman of Ellcie Healthy.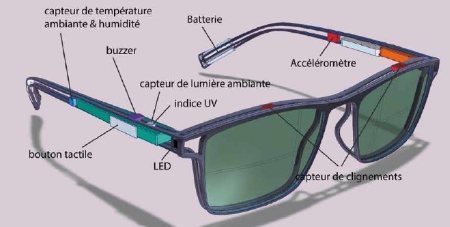 15 sensors are built-in to the arms and the sides of the eyeglasses – Ellcie Healthy
With this funding, the start-up intends to consolidate its technological advance by focusing on artificial intelligence. Its objective during 2019 is to be able to detect and prevent falls – in partnership with the MAIF foundation, as well as be able to measure people's physical activity and incorporate electrocardiogram measurements. "We expect to double our R&D team within two years, with more than a dozen people in AI. This would strengthen our technological advance and develop new use cases," explains Celine Corvisier Head of Operations at Ellcie Healthy.
Alongside its R&D investment, the company will speed-up its development internationally. The company is primarily looking for distributors in Europe, the United States, and Canada.
Since the end of March, these eyeglasses are already being marketed at 1,200 points of sale in the Optic 2000 stores under the brand name of Prudensee. Retail price: €289 incl. tax (frames + charger + 12 months customer support through Europ Assistance). Read our News: "We want to pre-empt the market for smartglasses," says Yves Guénin (Optic 2000).
Article of 3 June 2019 in Acuity, portal for optical decision-makers